Hip to Hip Theater Company's schedule of free Shakespeare in Queens parks begins on Wednesday, July 24, in Flushing Meadow Park.  The only Rockaway venue this summer is O"Donohue Park on Seagirt Avenue at Beach 17 Street in Far Rockaway on Saturday, July 27 at 7:00 p.m.  The shows will be preceded by a half-hour "Kids and the Classics" program with theater games and an introduction to the show.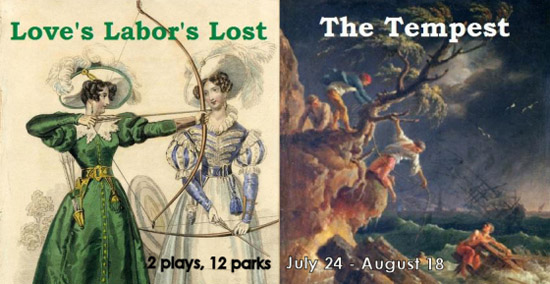 LOVE'S LABOR'S LOST
The King of Navarre and three noblemen take an oath to devote their lives to scholarship for three years—without the company of women. When the Princess of France and three ladies-in-waiting arrive, passion and puns abound. Will the oath hold? Or will the men succumb to the game of love? In this screwball romantic comedy, Shakespeare takes wordplay and wit to dizzying heights.
THE TEMPEST
After twelve years on a deserted island, a deposed Duke is now a mighty sorcerer. He raises a storm at sea, bringing within his grasp the enemies who robbed him of his dukedom. Half romance, half political thriller, Shakespeare's final masterpiece has it all: a shipwreck, conspiracy, magic, monsters and love at first sight.
| | |
| --- | --- |
| PERFORMANCES – JULY/AUGUST 2013 | |
WEDNESDAY
THURSDAY
FRIDAY
SATURDAY
SUNDAY
24

FLUSHING MEADOWS PARK

TEMPEST
7:30PM

25

CROCHERON PARK – BAYSIDE

LLL
7:30PM

26

LOST BATTALION RECREATION CENTER

LLL
7:30PM

27

O'DONOHUE PARK – ROCKAWAY

TEMPEST
7PM

28

CUNNINGHAM PARK

TEMPEST
8 PM

31

ST. ALBANS PARK

LLL
7:30PM

1

VOELKER ORTH MUSEUM

LLL
7:30PM

2

SUNNYSIDE GARDENS PARK

TEMPEST
8PM

3

GANTRY PLAZA STATE PARK

LLL
7:30PM

4

SOCRATES SCULPTURE PARK

TEMPEST
5 PM

7

FLUSHING MEADOWS PARK

LLL
7:30PM

8

CROCHERON PARK – BAYSIDE

TEMPEST
7:30PM

9

SUNNYSIDE GARDENS PARK

LLL
8PM

10

GANTRY PLAZA STATE PARK

TEMPEST
7:30PM

11

SOCRATES SCULPTURE PARK

LLL
5PM

14

NEWPORT – JERSEY CITY

TEMPEST
7:30PM

15

VOELKER ORTH MUSEUM

TEMPEST
7:30PM

16

SOUTHAMPTON AGAWAM PARK

LLL
7:30PM

17

SOUTHAMPTON AGAWAM PARK

TEMPEST
7:30PM

18Rain Date
————————
Get your reservations right away for The Rockaway Theatre Company's new production: Rockaway Cafe–The Comeback! which opened on July 19 at the Post Theater in Fort Tilden, and continues on weekends through August 4.  Matinees are on Sundays at 3 p.m., Friday and Saturday evening shows start at 8 p.m.  A show has also been added on Thursday, July 25 at 8 p.m.   The hotline for phone reservations is 718.374.6400, or reserve online at http://www.rockawaytheatrecompany.org.   
————————
The Rockaway Civic Association's Beach Flix series has achieved great success. The first three movies were well-received at Beach 126th Street, Beach 61st Street, and Beach 110th Street.  Friday, July 26, the Ironman movie will be shown at O'Donohue Park in Far Rockaway.  For more details go to http://www.rockawaycivic.com, or http://www.beachflix.com.
——————–
I am very happy to relate that the artistic talent of the students of the Rockaways has been recognized recently by the New York City Schools, Studio in a School, and the Metropolitan Museum of Art in the P.S. Art 2013 competition.  My daughter, Elizabeth Carter, a graduating senior at the High School of Art & Design in Manhattan, submitted an oil on canvas entitled "End of Wits," and Scholars' Academy graduating senior Megan LaCognata submitted "Self Portrait DIY." These are among the 75 selected works now on display at the Metropolitan Museum of Art's Uris Education Center, through August 25. The exhibit will then move to the Tweed Courthouse in lower Manhattan, and remain on display through Thanksgiving 2013.   Other students of Art & Design and Scholars' Academy were selected as semi-finalists, including Emily Dana.  What a magnificent achievement by these three young women of Belle Harbor!   Here is the link for the catalog and more information. http://www.metmuseum.org/exhibitions/listings/2013/ps-art-2013
—————–
I am very proud of the fact that my book, Images of America: Rockaway Beach, preserved for future generations, a print and digital memory of over 200 original historical photos of Rockaway Beach, 67 of which were, sadly, destroyed by the flood waters of Superstorm Sandy, in October 2012.  Signed copies can be ordered from this website by clicking on the "Buy Now" PayPal button on the right side of the home page.
Also, I distributed 95 special commemorative copies of my book, free of charge, to individuals and organizations who lost their previously purchased copies during Superstorm Sandy, to individuals who endured major business or household damage from the storm, and to storm recovery volunteers.  I also gave books to libraries, churches, schools, and museums. This give-away was made possible by a generous grant from the New York Foundation for the Arts.  The special commemorative gift books were given out at an event at The Blue Bungalow, Beach 116 Street, Rockaway Park, on  Saturday, April 20, 2013.